STAINLESS STEEL TANKS AND KETTLES
Heavy-duty jobs need heavy-duty equipment.
That's why we offer custom fabricated stainless steel tanks and kettles. We'll work with you to develop the perfect solution for your needs—whether that's a sanitary tank, commercial electric kettle, hemispherical bottom jacket kettle or one of our many competitively priced tanks. You can even add mixers and get pressure-rated certifications or vacuum-rated certifications.
Talk to our experts about our offerings for your processing needs. We work through our vendor network to prescribe the solution you need. Ask about adding agitation to your vessel, whether it including a scrape or sweep agitator. We also can include in-tank mixers alongside. R-Cap can design the vessel that you need, no matter how large or small of capacity. Contact us for Stainless Steel Tanks and Kettles today!
Applications R-Cap works with:
Storage vessels for raw ingredients or finished product
Processors
Pressure or vacuum
Single Shell
Silos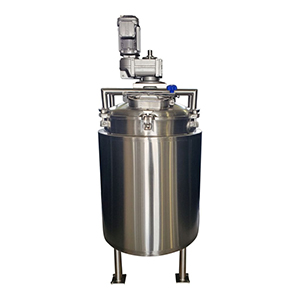 When should I use a stainless steel tank?
Stainless steel tanks offer a hygienic solution for storage and processing of a product that requires a sanitary environment. Stainless steel also offers superior structural integrity, as well as enhanced design capabilities for more complex applications such as; heat transfer, mixing, pressure, and vacuum processing.
What tank sizes are available for product storage or holding?
Tanks and silos are custom designed to meet specific space and application requirements. We can offer stainless steel storage tanks up to 10,000 gallons and silo storage solutions up to 50,000 gallons.
What tank sizes are available for product mixing?
Mixing tanks are custom designed to meet specific application requirements to perform at the highest level of efficiency. We can offer low-shear mixing tanks up to 10,000 gallons and high-shear mixing tanks up to 2,000 gallons.