HAFFMANS NIBEM FOAM STABILITY TESTER
The Haffmans NIBEM Foam Stability Tester uses the standards set by the NIBEM Institute. It measures the foam temperature, atmospheric pressure and humidity as well as the collapse time over a distance of 30 mm. Equipped with product identification and memory, the NIBEM Foam Stability Tester allows for the traceability of measuring data with up to nine programmed product types.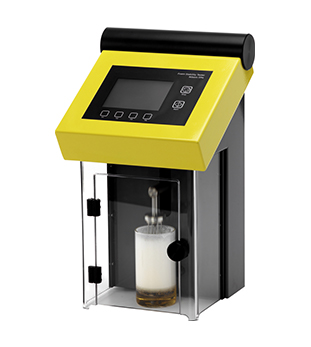 BENEFITS
High quality beer and beverages in every package
Objective foam quality management
The measurement method according to NIBEM
All-in-one measurement: HSO, DO, TPO and CO2
HOW TO USE THE NIBEM FOAM STABILITY TESTER
After filling the glass with highly reproducible foam created with the Inpack 2000 Sampling Device in combination with the Inpack 2000 Flasher Head, the glass is placed in the instrument and the foam collapse time is automatically measured.
Subsequently, the results are displayed on foam tester and can also be exported to a PC and/or directly printed. The foam sample can then be used for determining the cling with the NIBEM Cling Meter.
The NIBEM Foam Stability Tester, type NIBEM-TPH, measures the foam temperature as well as the atmospheric pressure and humidity, allowing for temperature, pressure, and humidity compensation of the NIBEM values.